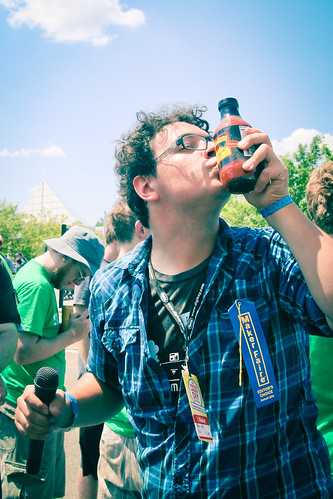 Tonight I'll be celebrating the wonderfully great news that my longtime friend Jim is taking the next step in pursuit of his dreams and moving out to San Francisco. That's a pretty common refrain these days, yet I can't help myself but take this opportunity to gush about my lifelong love affair with the place I've only recently had occasion to experience first-hand.
My first time setting foot in this place I was so overjoyed that I might've even shed a tear or two. I was supposed to connect on an overnight redeye, but took a day to adventure just a bit instead and ended up losing a job over it. It wouldn't be until a few years later that I'd get to return for a proper experience.
Jimmy, these are like life tips, so don't fuck 'em up.
History
I won't even try to cover everything, but think of this as a Cliff's notes:
January 24, 1848: California gold rush. Gold was found by James W. Marshall at Sutter's Mill in Coloma, California. The following year made way to the term "forty-niners" to describe prospectors heading west in search of a new start. And in case you might think the word "rush" sounds a bit dramatic, know that whaling ships like the Niantic were run aground and converted into a storeship and hotel in the service of quick money. Some of that ship's timbers still underly the streets of the city.
April 18, 1906: San Francisco earthquake. 3,000 people died and over 80% of San Francisco was destroyed. Police dynamited mansions on what is now Van Ness Ave in order to stop the REST of the city from burning to the ground. Phoenix. Ashes.
May 27, 1937: The Golden Gate Bridge opens and it's breathtaking.
1967: Summer of Love. People have sex with everyone/thing.
November 27, 1978: George Moscone & Harvey Milk assasinated. Murderer Dan White was convicted on reduced charges thanks to what was dubbed the "Twinkie defense". Shit got cray.
October 17, 1989: The Loma Prieta earthquake hits a half-hour before game 3 of the world series at Candlestick Park.
Sportsball
The whole inspiration for this piece was a beautiful moment from the 49ers very last game played at Candlestick Park before it being retired at the end of the 2013 season. Words will do no justice. Just know that the stadium was a story all its own and that this come-from-behind win was the classiest send-off for a building i've seen in recent time
My brain had melded that clip with the radio broadcast audio from this one. It wasn't long before I had too many other bits of trivia, and decided to go full-nuclear with a blog post. The reason why this is awesome is the metaphor at the very end, which I'll get back to later. Other notable 49ers trivia includes:
FIVE Super Bowl championships including XIX on January 20, 1985. Good year.
Meanwhile the SF Giants were winning World Series in 2010 and 2012 all while putting on a clinic on being damn entertaining.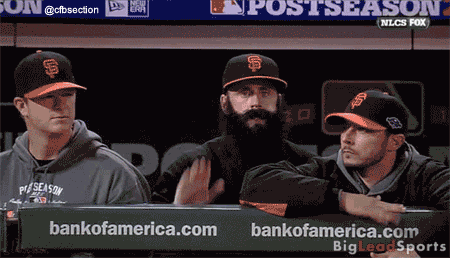 That's Brian Wilson and yes, the beard is real. In fact he's basically sex on a pitching mound:
I remember in 2010 that group of dudes bringing a whole new level of energy to the game of baseball.
Media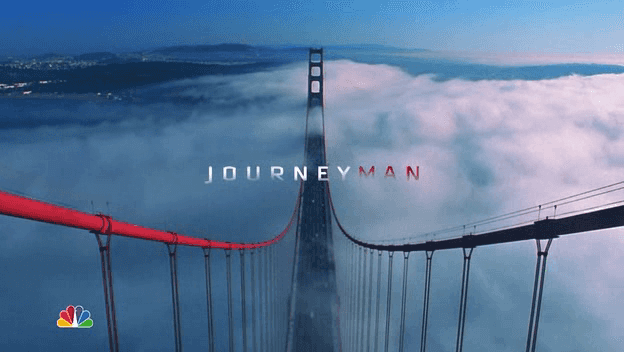 Quite possibly the dorkiest section of this diatribe, but hear me out: SF city porn. Fictionalized historic events. Time Travel. If nothing else appreciate the beauty of the opening title sequence of this short-lived series I've gone on about many times previously. The music which I've also been in love with is by Amanda Ghost & The Rural.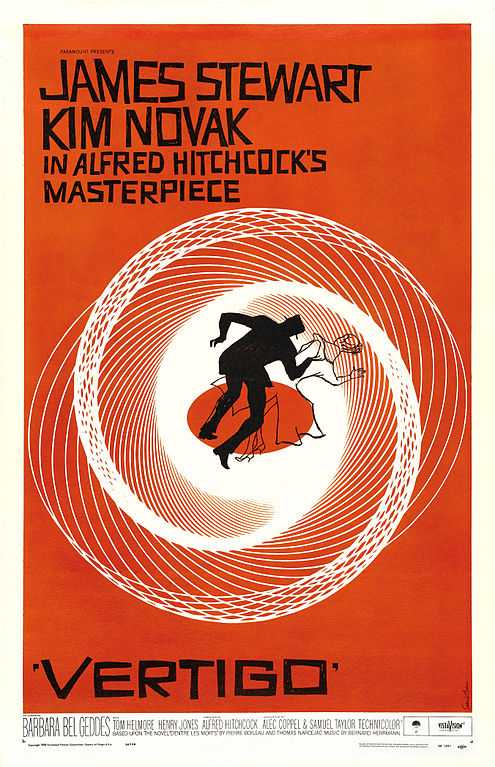 I just loved Vertigo. There are many other films that spotlight San Francisco, but none quite so perennially. Then there's the epic poster and title design by Saul Bass and Hitchcock film obviously. I even found a fascinating article on SF then and now.
Speaking of design, there are these glorious posters done by Michael Schwab as part of his National Parks series. The Golden Gate bridge even has it's own CMYK sample! Cyan: 0%, Magenta: 69%, Yellow: 100%, Black: 6%.
Food
Sourdough bread, surely. But there are plenty of lesser-known gems that are worth the trip. Namely a burrito from the Mission district. Fresh seafood abounds and a sizeable asian population lends itself to plenty of tasty Ramen among other asian food options. Heck, even Rice-a-roni has some history to it.
Numerology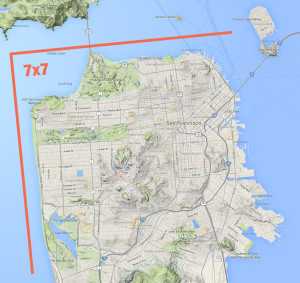 The number 7 and it's square 49 pop up in a couple peculiar places. A lot of it can be attributed to human confirmation bias, but I refuse to discount the awesomeness for that reason.
49 has it's obvious root from the year 1849 and the people that came west with the gold rush. The San Francisco 49ers are named after that event not surprisingly. What's REALLY interesting is the correlation of 7's. The city of San Francisco's peninsula is roughly 7 miles going both north-south and east-west. Furthermore one of it's common nicknames is "City of seven hills" which, the California Academy of Sciences pays homage to on it's museum's green roof in Golden Gate park. The USGS has designated far more than just 7 notable hills, but the human psyche loves patterns. Here are the most popular seven:
Nob Hill
Russian Hill
Telegraph Hill
Rincon Hill
Twin Peaks
Mount Sutro
Mount Davidson
If you remember, I promised I'd explain the metaphor I so enjoyed by the 49ers' KNBR radio announcer. His phrase when describing the longest interception return for a touchdown by a linebacker in NFL history was,
"[Navarro Bowman] catches a deflected pass for an interception and runs it seven miles for a touchdown."
Now you should be able to truly understand the beauty of that sentence. Ken Robinson giving a valentine to every San Francisco fan in describing the most memorable play of that team's season by alluding to the sheer distance with a reference to their very own home city.
These are just a few of the things that come to mind when I think fondly of San Francisco and now I'll have California on my mind for yet another reason. Having sent off another awesome person in style is a moment I'll not want to soon forget. Cheers, Jimmy.